by Cindy Dvergsten
Colorado, U.S.A.: In mid-August 2001, I gazed down the Mancos River thinking to myself "Gosh it must have been a really wet year in 1776." This was the year Spanish explorers Dominguez and Escalante traveled through Southwestern Colorado in search of a trail from Santa Fe, New Mexico to Monterey, California. Their journals speak of a drowning and injuries during river crossings, and hence came names like Mancos, meaning one hand crippled, and Dolores, the river of sorrows.
As I stared at the trickle of water picking its way haphazardly through cobbles, I tried in vain to visualize how this river could pose danger to even the most tenderfoot of traveler. Yes, my thoughts continued, this will be one of those years that future old timers refer to by casually noting "Yep, but it hasn't ever been as dry as it was back in '02, when even the thistle wilted."
The Mancos Valley that Dominguez and Escalante crossed is said to have been covered with a "sea of bluestem." Years later, the lure of ample water and forage drew American homesteaders to the valley. Cattle and sheep ranching flourished as producers worked to supply a local market created by the booming mining and logging industries of the late 1800s.
After a hundred years of over-grazing and over-rest, sagebrush began to dominate the Valley. Needing more winter feed for cow-calf operations, the community built Jackson Gulch Dam. storing water from the Mancos River to provide for season long irrigation. Today, for many reasons, ranching is declining in the Mancos Valley. The valuable irrigated land is being subdivided into small pieces that are being bought up by folks who dream about going back to the land and the simple life.
Kathe Byrne and Lisha Owen were two such dreamers when they purchased ten acres and the homestead of an old ranch. Coming from the Arizona desert, they were attracted by the snow capped La Plata Mountains, a bright blue sky, green hayfields and the promise of plentiful water. Their aim was to bring the farm back to life, and through the process, enhance their lives, so they established Fat Sheep Farm.
| | | |
| --- | --- | --- |
| | Cindy Dvergsten | |
What to do with a farm
With a smile, Lisha recounts the feelings of elation mixed with confusion as they exclaimed to themselves one day: "Now that we have the farm, what do we do with it?" Their inquiry led them to the 1998 Sheep Is Life: A Celebration of Navajo Herding and Weaving Culture event in Farmington New Mexico where they discovered both Holistic Management and Navajo-Churro Sheep. A holistic approach made sense to them as did the preservation of rare and endangered farm animals.
Kathe and Lisha took training in Holistic Management from me in 1999 and participated in a refresher workshop this past spring. "Holistic Management helped us see the big picture of where we were going and gave us guidelines for figuring out what needed to happen and when," notes Lisha. "We put the concepts into use right away and are learning more about the particulars as we go."
Years of neglect had taken a toll on the old barns, home, and pasture. Restoration and renovation became the buzzwords of the day, and quickly they learned that the simple life they had dreamed of required a whole lot of work.
Through the process of defining their whole under their management, the women realized they were operating with limited resources. While many would have charged ahead and simply torn down the ramshackle barns and sheds, they chose to be conservative. "We decided not to tear anything down until we were sure we could not use it or restore it," Kathe emphasized as she pointed to the barns they have stabilized.
Cindy Dvergsten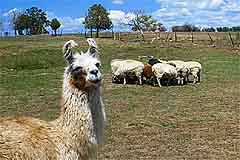 Resting in the shade of one of the refurbished sheds are two horses, a dozen Churro sheep and a guard llama named Lucky. The Navajo-Churro descended from the Churra, which were given to the Navajo Indians by the Spanish in the late 1500s. Suited to the dry rugged climate of the Navajo homelands, the Churro became the mainstay of the Navajo. It is said that the Navajo used to trail their sheep through the Mancos Valley on their way to summer pastures in the La Platas.
Due to U.S. Army and Bureau of Indian Affair policies in the 1800 and 1900s, this breed was almost exterminated until they could be found only in isolated villages and remote canyons of the Navajo Indian Nation. Kathe and Lisha bought their stock from the Navajo-Churro Sheep Project because they wanted to help bring this endangered animal back to the land.
Early warning monitoring helps
No one could have imagined the kind of drought we are facing this year in Southwestern Colorado. The drought is the worst the Mancos Valley has seen in the 107 years that records have been kept. As of late August, most of the area had received only one tenth of the year's "average" precipitation.
Drastic changes are occurring in the ecosystem such as the loss of 50 to 90 percent of the Pinon pine. Archeologists speculate that this drought may be similar in severity to the drought of 1296 AD, recorded in trees rings, which is believed to have forced Anasazi Indians to leave the area.
Drought is the kind of disaster that affects all facets of a community. Tourism is down in the town due to massive fires in nearby Durango and Mesa Verde National Park. This is putting a big dent in the cash flow for many businesses including Kathe's main street antique store. If things do not improve she will close the store rather than go into debt.
The concept of monitoring for early warning signs is one of the gems Kathe and Lisha have found useful from their Holistic Management training. For example, when Lisha noticed that water levels were dropping in their well this spring when they should have been rising, they knew they were in trouble. The well is fed both by snow melt and deep seepage of irrigation water. Rather than wait to see what would happen, they decided to take immediate action.
Faced with the possibility of no household water, they first reviewed past decision-making. At the time of purchasing the farm, they choose not buy a rural water tap because it did not address their weak link at the time. There are no new rural taps available in the Mancos Valley due to lack of capacity for water treatment and delivery. The available taps are held privately and sell for about $10,000. This option did not pass the Energy/Money Source & Use testing questions as it would have caused more debt.
Even though an old cistern was buried beside the house, they had never investigated using it since they had always had enough water. "To tell you the truth, we really were afraid to look in there for fear of what we might find," says Kathe. So they researched the expense of installing an above ground cistern and having water delivered. There were logistical problems and recurring costs that made this option also fail the Holistic Management testing.
Finally they returned to the possibility of repairing the old cistern. They bought a 16-foot ladder at a garage sale and found a person who understood cisterns to help them.
Much to their relief they found only a few salamanders, some water and muck at the bottom. With a few minor repairs and some new piping they were ready for water to be delivered. The cistern is large enough to take a whole truckload of water, which is cheaper and more energy efficient. Now, with the turn of a valve, they can easily switch from well to cistern as needed.
Less water brings higher yield
During the Holistic Management refresher session this spring, I demonstrated to Lisha how to monitor for effectiveness of irrigation. Using a soil probe to check for depth of irrigation, she realized that she was achieving a very uneven 2-12 inches depth of wetness. Looking back at her decision-making, Lisha realized that she had been spacing her side roll sprinkler sets the way she saw her neighbor do his irrigation.
Lisha improved the effectiveness of irrigation by overlapping her sprinkler sets to get a more even depth of watering. In a year where they received only 18% of their irrigation water, she was still able get 30% of her first cutting of hay. " I cannot tell you what an eye opener this has been for us," Lisha exclaimed, since this was a much better of yield than what they had expected.
Building a sense of belonging
A greater sense of community is another benefit the women say they are realizing. "We have learned to ask for help and to work together with others," says Kathe. "Water use is very complicated in the Valley. With subdivisions and an earthen ditch system, we had to get our heads together on this ditch to figure how to make a little water work for everyone."
"Still, this drought is just real depressing." Lisha says. "The barn swallows let their babies die due to lack of insects to feed them. But at least we are not alone with this sense of desperation." The women had just returned from the Colorado Branch summer tour where they found consolation as they heard more experienced holistic managers express similar feelings at the 3R Ranch owned by Reeves and Betsy Brown.
Kathe and Lisha returned from the tour knowing that as depressing as times are, the losses can be cut, and that practicing holistic decision-making will help them make it through to better times. In the meantime, learning to farm and becoming involved in the larger picture of a whole landscape, community and region has deeply enhanced their lives.
© 2003