by Wayne Burleson
I got myself into trouble after conducting a quick Pasture Walk Evaluation on a Montana ranch in the fall of 1997 by stating this one-liner, "The sagebrush is increasing."
Three employees of the ranch and I walked a few pastures to see if I could help them determine what was causing a problem with an electric fence that I constructed 14 years ago.
Walking these pastures was similar to not having seen a person's face for more than 14 years. Things just look different. I said, "I don't remember all this sagebrush, I think there is about twice the amount of sagebrush here."
The pasture walk revealed a mosaic pattern of the plants and soil surface in Phase III (land that shows signs of a lack of disturbance -- "Land Idle-itis") and Phase I (stress from too many disturbances). We also found thousands of newly germinated sagebrush, about 5 years old as shown by annual rings. I believed that the sagebrush was definitely increasing and causing the 3 wire smooth electric fence to loose it's shocking power.
How then did I get into trouble? Well, one month later, I just happened to bump into the senior owner of this ranch. He mentioned that he had visited with the fellow that is hired to do their land monitoring and he indicated to me that perhaps my statement about the sagebrush increasing was wrong.
Uh-oh. Could be the potential for conflict here, and I don't want that to happen. It's time to talk things out and for good science to prevail. Thus, we have the birth of the land monitoring shootout. I really wanted to know the story with the sagebrush changes on this ranch.
Comparing monitoring methods
The Land Monitoring Shootout was designed like a chili cookoff, where some people like lots of chili (lots of numbers) and others like things mild (fun and easy to do).
The shootout was really a monitoring of monitoring methods,
intended to
present friendly side-by-side in-the-field demonstrations of different land monitoring techniques and resource evaluation methods; and
test the ability after data collection, to present findings and to give effective recommendations to help managers make better decisions leading them towards desired goals.
Methods were compared by grassland experts as they collected data individually, and demonstrated to a group of interested folks their method of land monitoring. The following day they presented their findings side-by-side and each gave recommendations. These methods were:
Range Site and Condition is based upon climax plant communities, inventory mapping, and then recommending stocking rate once the conditions of rangelands are determined (Matt Ricketts, USDA-NRCS).
Land EKG® is based upon a percentage score of ecological indicators that relate to rangeland health all plotted on a line graph similar to medical EKGs. Land EKG will display the departure of individual indicators from predetermined goal ranges (Charley Orchard, Land EKG).
Pasture Walk--Land Monitoring for Solutions is based on walking several pastures, determining the past and present disturbances to determine the health and productivity of the land, and then coming up with good whole-ranch solutions (Wayne Burleson, Range Management Services).
Holistic Management Biological Monitoring is based upon monitoring of predetermined early warning criteria that indicate deviations from the long-term goals (Roland Kroos, Crossroads and Company).
Ecological Site is based upon habitat types and their departure from natural plant communities (Jeff DiBinedetto, Terry Johnson, and Rim Reid, USDA Forest Service).
Peter Donovan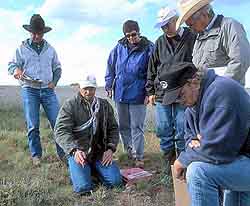 All five instructors did a fabulous job. The NRCS was great. The Forest Service did well with habitats, and Land EKG® was presented with great graphics. Roland Kroos challenged us all, and we documented the shootout with a 6-hour video.
I was pleased that the Pasture Walk was accepted as a quick, easy way to pick up problems and come up with solutions. The other methods were in agreement with the original Pasture Walk. The Forest Services measured sagebrush cover at 20 percent and in their formal writeup this ecological site would normally have a 30 percent sagebrush cover.
The Shootout was an eye-opener for the ranch, and they have completely replanned their land management.
Other learnings: producers see land monitoring as too time consuming, boring, not fun, complicated, they don't know the jargon or the plant names. Land monitoring is viewed by producers as something that doesn't directly make them money.
They easily see the dollars when putting up hay, calving out, or planning a crop. Livestock producers are busy folks faced daily with animal husbandry, farming, fencing and water developments, moving livestock, haying, weed control, paying bills, and raising a family.
Charley Orchard from Land EKG inventoried producers about their land monitoring. He found that 90 percent of producers do not formally monitor their land. Only 60 percent of those who have had Holistic Management training do, and most of these said that they were unhappy with their monitoring program.
I personally benefited from this Shootout and seem to be on a new mission in life: to make land monitoring become a habit that producers enjoy and get excited about.

-- Wayne Burleson, 1998

Wayne Burleson is a Holistic Management Certified Educator and range consultant. Call Wayne at 406-328-6808 or email him at rutbuster@montana.net for help in producing a Shootout in your area.
This article originally appeared in Patterns of Choice in 1998.
Updated 26 December 2002