by Peter Donovan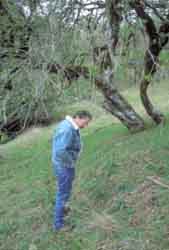 Dick Knox looks at small oak seedlings where he and Diane have controlled the time the horses are allowed to graze.
UKIAH, CALIFORNIA—In 1989, Dick and Diane Knox bought 40 acres of grassland, oaks, and brush. They were not ranchers, but they had a few horses. He is an attorney, and she works as a computer mapping specialist for the Bureau of Land Management.
When they bought the property, there were 13 car bodies and 2 pallets of dead batteries. Previous management had included long bouts of continuous or season-long grazing with cattle. There was lots of bare ground, with little to no regeneration of oak seedlings. Yellow starthistle, a noxious weed, dominated large areas. Under the oaks, the leaf carpet was several inches thick, with little vegetation and an ineffective mineral cycle. The intermittent stream running through the property was silted, without willows or brush.
Dick and Diane were concerned about the condition of their land, and about the bare ground, which didn't make sense to them. They brought their horses in and put in a cross fence.
About that time, consultant and facilitator Jeff Goebel did a presentation on Holistic Management in Ukiah. As a way to understand the situation and improve their land, "it clicked," says Diane.
Jeff came out to their place, looked around, and helped them set a goal and put together a plan for controlling the time that their horses spent grazing any one particular area.
"We both felt strongly about leaving the place better than we found it," Diane says. With both of them working demanding full-time jobs, implementing a grazing plan had to be a part-time occupation. Jeff encouraged them to pace off an area that they thought could support one horse for one day.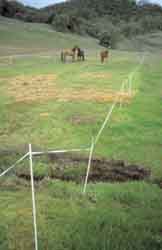 They settled on weekly moves. Half of the property, about 20 acres, is steep brushland with poison oak where the Knoxes do not graze the horses. On the other half, they put up temporary electric fence to make paddocks which are an acre and more in size, with different boundaries each time. For most of the year they also feed the horses some hay every day. Most years the horses graze and trample each area about three times. During wet seasons the horses churn the ground into mud (which is hard on the starthistle, Diane has noticed), but they are not in any one area more than a week, allowing time for the grass plants to recover.
The exercise of changing paddocks is a welcome relief from their desk jobs. "It takes an hour or so on a weekend to move and put away a paddock," says Diane. "We look forward to it—an enjoyable chance to get out on the property, seeing changes in the seasons and on the land."
Their monitoring has been informal. All of the bare areas have progressed to forbs, annuals, or even perennial grasses. "We don't have the muddy runoff anymore," Diane says. "Now we have grass under the oaks. There's a willow in the stream, and the stream course is stabilized, with gravels on the bottom instead of silt. There's less starthistle. The oaks are coming back, and we see seedlings that are 8–10 years old."
Formerly they supplemented the horses with hay year round. Now the pasture supports them from April through June. "We've seen it become more healthy. We now have a real variety of wildflowers, from 4 to over 15 species." The water cycle is improving, and their land stays greener longer. Patches of low-successional plants such as butter-and-eggs are shrinking each year.
"It seems okay to people to keep horses in little muddy and dusty squares. But when the land is gone, what have you got left?" Some people notice their rotating system of temporary electric tape and stop and ask what they were doing. "We think the property will speak for itself. People have recreational interests and horses. People will see the vegetation differences."
"When we come out here after working in town, it's about living in a park," says Diane. "Serenity, land health, and aesthetics are important to us."
Dick is proud of what they've accomplished. "When we first got it, it was nothing—starthistle and bare ground. Who were we going to leave this to?"
Patterns of Choice, 1999