Index of articles and links
One of today's most profitable small-farm enterprises is pastured poultry, such as free-range chickens and eggs. Clean conditions and a more natural diet produce extra-tasty birds and eggs that can be sold direct to consumers for a premium price. Portable coops give birds continuous access to fresh pasture, and avoid the typical bare wasteland surrounding stationary poultry houses.
Chris Bailey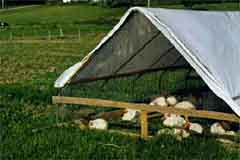 Articles
Portable pens for pastured poultry--designs that beat heat, wind, and rain. Pens from the Midwestern U.S. that work in extremes of heat, rain, and wind. Explores key considerations like weight and pen size, and describes Andy Lee's day ranging system. Includes suppliers list. Updated from APPPA Grit! 1999.
Sustainable poultry: production overview describes the basic production method options, with photos of many pen designs. On ATTTRA website.
Mobile poultry processing unit up and running in Colville, Washington, U.S.A. Built into a 20-foot-long trailer, this unit will allow growers to quickly process their own birds in an approved facility for resale to the public. On Capital Press website, March 2003.
Books
Pastured Poultry Profits: Net $25,000 in 6 months on 20 acres by Joel Salatin. Excellent directions for making a profitable business of pastured poultry. Recommended. On Amazon, Booksense Half.com.
Chicken Tractor: The Permaculture Guide to Happy Hens and Healthy Soil by Andy Lee and Pat Foreman. Aimed mostly at gardeners who want to use chickens for composting, mulching, and weed and pest control. Revised 1998. On Amazon, Booksense, Half.com.
Day Range Poultry: Every Chicken Owner's Guide to Grazing Gardens and Improving Pastures by Andy Lee. 2002. On Amazon, Booksense, and Half.com.
Salad Bar Beef by Joel Salatin. Chickens need short pasture. Salatin uses cattle to mow his grass, moving them to fresh pasture daily and thereby growing top-quality beef he direct-markets to his customers for premium prices. 1996. On Amazon, Booksense, and Half.com.
Search for related books on Amazon, Booksense, and Half.com. (Booksense finds an independent bookseller near you.)
Online resources
Pastured poultry discussion on Yahoo! groups.
APPPA (American Pastured Poultry Producers Association)
P.O. Box 1024
Chippewa Falls, WI 54729
phone: 715-667-5501
fax: 715-667-3044
grit@apppa.org
Newsletter APPPA Grit!
ATTRA (Appropriate Technology Transfer for Rural Areas)
phone: 800-346-9140 U.S.A.
fax: 479-442-9842
Free pastured poultry information. Several portable pen designs, including a PVC hoop house.
Illustrated poultry-butchering tutorial on Mulligan Creek Poultry Farm website.