Conventional land monitoring can't detect ecosystem improvement or deterioration until symptoms are severe. Presents methods that detect changes early.
Index of articles and links
According to a U.S. National Research Council report in 1994, using conventional monitoring methods and data, it is impossible to determine whether U.S. rangelands are improving or degrading. They recommended an approach based on multiple indicators of basic ecosystem processes.
The following methods of land monitoring were developed to provide useful information about land's condition, and detect changes early enough for easy course correction. All are based on monitoring four basic ecosystem processes: the water cycle, mineral cycle, energy flow, and succession.
Peter Donovan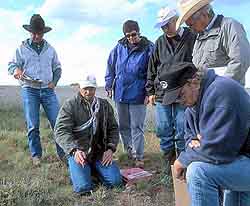 Land monitoring methods
The Great American Land Monitoring Shootout. Wayne Burleson compares five methods of monitoring, including Pasture Walk, Land EKG, and Holistic Management Biological Monitoring.
Pasture Walk how-to article at Wayne Burleson's Pasture Management site. Pasture Walk is a quick method of assessing landscape health and trends.
Charlie Orchard developed Land EKG to give land managers useful information about what their land needs. A more in-depth approach than Pasture Walk. By Peter Donovan, September 2002.
Tired pastures aren't overgrazed, but still show low vigor, unhealthy plants, and invading weeds. Wayne Burleson's article on Pasture Management website.
Land monitoring training
Land EKG workshops. On Charlie Orchard's Land EKG website.
Pasture Walk workshops. On Wayne Burleson's Pasture Management website.