Index of articles and links
Bud Williams (left) has singlemindedly devoted his career to learning how to handle and herd livestock of all types with low stress--to the people and the livestock. These articles and links reflect what he has learned and taught.
Building trust while working with livestock: Part 1 by Bud Williams. Edited transcript from a Bud Williams Stockmanship School in Lloydminster, Alberta--Bud's powerful and down-to-earth descriptions of the radically different better of livestock handling he developed. Guaranteed to challenge your beliefs not only about handling livestock, but about people too. Patterns of Choice, 1998.
printable PDF version of all 4 parts!!
Part 1 (40K)
Part 2 (37K)
Part 3 (25K)
Part 4 (25K)
Low Stress Livestock Handling by Steve Cote. A column of practical instruction on Bud Williams's low-stress livestock handling methods. Patterns of Choice, 1999. NEW in 2019: Steve Cote's website with link to his very good new book.
Learning from change by Bud Williams and Richie Davies. Livestock handling expert Bud Williams and owner Richie Davies discuss the changes in attitude and in livestock handling at Vee Tee Feeders in Lloydminster, Alberta, Canada. Patterns of Choice, 1998.
The Bud Williams Stockmanship School site contains information on the low-stress livestock methods of Bud and Eunice Williams, and a calendar of upcoming schools and workshops.
Eunice Williams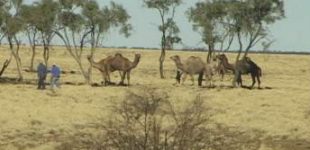 Stock dogs
Working with dogs by Bud Williams. Advice from a top expert on low-stress livestock handling. The Ranch Dog Trainer, 1995.
Starting stock dogs by Eunice Williams. Advice on starting stock dogs. The Ranch Dog Trainer, 1995.
Untrained dogs of yesteryear by Bud Williams. Why this top livestock handler prefers "untrained" dogs to modern trial dogs. The Ranch Dog Trainer, 1995.