Pictures, photos, and slide shows
Index of articles and links
Our images and pages are small enough (10-30 K) to load well over a modem connection, except as noted.
Slide shows
Water cycle basics. Discover the most common cause of droughts and floods worldwide. Viewable as a Flash movie with quiz or HTML slide show. Or download Flash or PowerPoint versions for classroom use, presentations, and offline viewing. In 7 languages:
Great Falls Tribune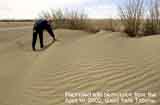 Erosion: why it happens and what to do about it by Joy Livingwell. Pictures from around the world tell the story of erosion's causes, costs, and cures. In 2 parts: why erosion happens (20 photos); protecting and growing soil (15 photos).
Grassland productivity across brittle environments by Jim Howell. Photos demonstrate differences in standing biomass, ground cover, and stocking rates in highly brittle environments with different levels of biological productivity. Chart format makes comparisons easy. 12 slides. 62 K index page
Managing productivity in brittle grasslands by Jim Howell. Photos show grazing management, biological productivity, and landscape management issues on high- and mid-rainfall tropical savannas, mild temperate steppes, and cold steppes. 18 slides. 38 K index page
Photo essays
Burrows Stewardship Day 2002: A day of workshops and ranch tours held yearly in northern California. Topics: advantages of perennial grasses, how to establish them, goats for weed control, and multi-species grazing that includes pastured hogs. 12 pictures. 96 K

Updated 18 April 2007
URL: managingwholes.com/photos/index.htm